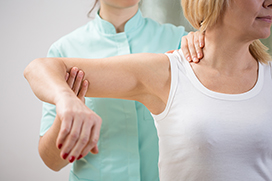 Using a variety of approaches and techniques, this type of therapy focuses on reducing or preventing some of the more difficult and uncomfortable side-effects you may experience from surgery or cancer treatment. Some of these side effects might include:
Stiffness during arm movements (restricted range of motion)
Appearance of thin cord-like bands in your armpit area
Formation of scar tissue around your incision
Tightness or skin changes after radiation
Struggle with lifting your arm above your head after surgery
Difficulties with integration back into work, home and recreational activities
Lymphedema
Lymphatic vessels carry a clear, filtered fluid to blood vessels near your heart. This helps to maintain normal blood volume and pressure. When lymph nodes are removed or damaged as a part of cancer treatment, it can result in a blockage in your lymphatic system. This prevents the lymph fluid from draining well and the fluid builds up around an upper extremity and leads to swelling. This is common during and after breast cancer treatment.
Since the lymphatic system is part of your immune system, lymphedema increases your risk of infection. However, if it is identified early, it can be managed successfully with proper care.
The care we provide includes helping you monitor for signs of lymphedema, educating you on ways to reduce your risk of lymphedema and treating the condition as appropriate.
Welch Cancer Center
1585 West 5th Street
Sheridan, WY 82801