Trees of Love
The Hospital Auxiliary's Trees of Love fundraising event serves as a heartwarming way to acknowledge someone cherished or loved by dedicating a light in their honor. Different colors of lights are chosen depending on who they honor. A white light memorializes a deceased loved one, a green light honors a relative or friend, and a red light honors a special child or pet. Lights can be reserved for a donation of $5 or more, and all donations will go towards funding special projects that help our hospital patients.
Along with having a symbolic light on the tree, a card will be sent to the honoree or family of the memorialized, and their name(s) will be inscribed in the "Book of Love," which will be available to view during the holidays at Gould Street by contacting our offices or online at sheridanhospital.org/treesoflove
2020 Tree Lighting Ceremony
Each year we kick off the Holiday Season with the Annual Tree Lighting Ceremony to celebrate those with lights dedicated through The Trees of Love. With consideration for the health and safety of the patients and members of our community, this year's tree lighting will not include an Open House in the patient lobby. Instead, we encourage family and friends of those honored, and our community, to join in their cars for the lighting of the trees and our festive Santa Claus on top of the hospital roof. We hope to see you at 5 PM on Sunday, December 6, for the first lighting of the 2020 Holiday Season.  
Find all event updates here. 
Trees of Love Traditions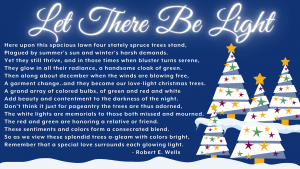 For the last three decades, during our ceremony and tree lighting, the Sheridan Memorial Hospital Auxiliary has taken a moment to reflect on this event's history and tradition. Below you will find the poem we share each year, and we hope you will read and enjoy it while you view the lights with your loved ones, too.
CLICK HERE to purchase a light online or visit sheridanhospital.org/treesoflove
CLICK HERE to download the 2020 Trees of Love Form to be returned by mail to PO Box 108 or in-person to our downtown office at 61 S Gould Street.